CARDS
Own production of cards for different purposes such as Christmas, greetings, spring, summer, autumn, winter, weddings, baptism, condolences, etc. All cards are folded and can be supp lied with texts and logos.
The cards are delivered with envelopes.
(except mini cards)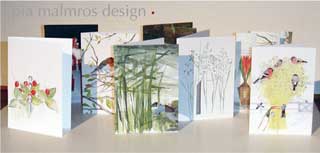 PRINTING FACTS
The cards are printed at a printing plant that mostly uses environmentally managed and certified materials. Inks and cleaners that are odour-free and do not harm the environment are used as much as possible. The bright and airy printing premises are equipped with new machines that have carefully controlled air filtration and ventilation. All waste materials are submitted to the recycling centre for sorting.